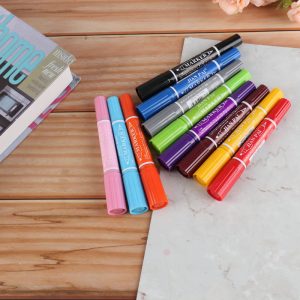 The so-called whiteboard pen and marker pen belong to the category of marker pen, marker pen is divided into oil marker pen and water marker pen, whiteboard pen is water marker pen, marker pen is oil marker pen. The most direct difference between the two is that when writing on a smooth surface or whiteboard, the marker pen cannot be erased, while the whiteboard pen can be erased with a rag.
The whiteboard pen is a writing tool on the whiteboard, similar to the chalk on the blackboard. The pen uses ink as ink and can be written on a smooth white board and erased with the white board. Whiteboard pen contains chemical raw materials, it will have the taste of chemical raw materials. After the ink solidifies, a layer of mucous film is formed on the surface. After wiping, it becomes strip or block granules. No stain is left on the board or on the board.
The marking pen is divided into oil marking pen and water marking pen. Waterborne marking pens can be written on smooth surfaces or white boards, erased with rags, and oily marking pens can not be erased. It is a pen that can be marked or marked on one or more materials, such as paper, wood, metal, plastic, enamel and so on. It can also be divided into durability marking pen, water marking pen, whiteboard marking pen, fluorescent marking pen, color ink pen and signature pen.
The pen is called a fountain pen because the fountain pen itself is made of tap water and water-soluble toner, so the fountain pen is a water-based pen. The liquid in the core of a ballpoint pen is oily, so a ballpoint pen is an oily pen. The liquid in the neutral pen is different from both the ink and the oil liquid in the ball pen core, but it is an organic solvent, so it is called the neutral pen.