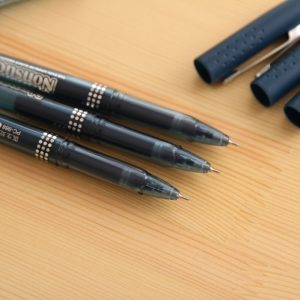 1.Bullet type
Looking closely at the tip of this gel pen, we will find that they are like a bullet. In the manufacturing process, we cut an original rod into a complete tip by metal cutting. The bullet type is suitable for making thicker pens. The market is more than 0.5MM, and the thickest can reach 1.2.
2. Needle tube type
Usually, we refer to this type of pen as a "full needle." The key difference between it and the bullet type is that it is not
The cutting method is processed. Before being processed into a writing head, it is a complete thin tube. Three precisions are used to make three concave points at the front end of the thin tube in three directions to form a bowl of balls. The rear thin tube forms a triangular oil groove. The ink flows out through the oil sump, and then the ink is taken out by the rolling of the beads to complete the writing process. The syringe type is suitable for making thinner tips, such as 0.30, 0.25, and the like.
3. Half needle tube
It is between the bullet and the needle tube, and the shape is more beautiful. The tip of the tip can be as thin as the needle, and the end of the tip is as large as the end of the bullet. The semi-needle type can be used to make relatively thin tips, such as 0.48, 0.35, and so on.