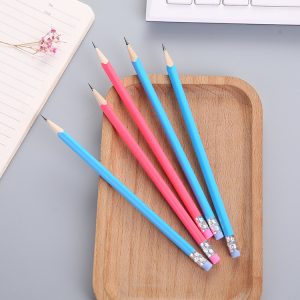 Divided into two parts: pencil cap and pencil rod: the appearance of the pencil cap decoration material is mainly polyester material, and the manufacturing process can be divided into mold making, offset printing, assembly and other processes to complete it. The appearance of pencil pencil decoration materials mainly includes nitrocellulose pencil paint, printing ink, electrochemical aluminum foil, rubber head and aluminum hoop. The production process can be divided into pencil board, lead core, pencil rod, finished decoration and other processes.
The pencil board is processed to cut and cut the logs, and the sawing is turned into wooden blocks. After hydrothermal treatment, the logs are cut into pencil boards by a cutting machine. The board has a length of 184 mm, a width of 73 mm, and a thickness of 4.8 to 5.2 mm. After heating (60 ~ 120 ° C) drying and high temperature (130 ~ 200 ° C) denaturation treatment, the pencil board is softened and easy to roll.
The lead-core processed graphite lead core is prepared by a certain ratio of graphite and clay. After mixing by a kneading machine and a three-roller machine, it is extruded through a core machine to a certain size (for example, the diameter of the lead core of HB~3H is 1.80~ 2.10mm) lead core, heated (50 ~ 150 ° C) dry and high temperature (800 ~ 1100 ° C) roasting, so that it has a certain mechanical strength and hardness, and finally made by oil immersion treatment. Color lead processing is similar to graphite lead, but does not require sintering. There are two kinds of processing methods: one is to mix clay, talcum powder, adhesive, color, grease and wax, and then formed by molding and drying, which is called mixing method; the other is porcelain clay and talcum powder. After the mixture of coloring materials and adhesives is uniformly mixed and extruded into a lead core or a dried lead core is placed in a wick container and fully absorbed at a certain temperature, it is called an oil immersion method.
The pencil-bar processing machine uses a router to plan the pencil board into a slot plate with a thickness of 4.1 to 4.2 mm and a core groove adapted to the diameter of the lead core, and then glue the lead core and the pencil board with a glue. After drying for 1 to 8 hours under heating (50 to 120 ° C) in a tight state, a white rod pencil having a length of 178 to 180 mm is processed by a planer.
The exterior decoration process paints and prints the white pencil, as well as cutting, printing the logo, loading the rubber head, pen cap, etc., making it a finished pencil with certain specifications, appearance color and pattern.